Our Team of caring professionals are here for your wellness and safety.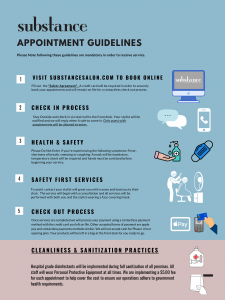 We are honored you have given us the opportunity to provide you with the highest quality beauty / grooming services.
Cancellation Policy
Your appointment is very important to us. We reserve each appointment especially for you. To secure your reservation, we require a credit card to book an appointment.
To best serve our clients and our staff, we require 24-hours notice by phone to cancel or reschedule any appointment. Cancellations on short notice prevent other clients from being able to fill those openings.
Cancellations with less than 24-hour notice & No Shows
First Time – Life happens, we get it!
Second Time – 50% of the total service booked will be charged to your credit card on file
Third Time – 100% of the total service booked will be charged to your credit card and you will be required to provide a non-refundable deposit for any future bookings
We thank you in advance for respecting our policy.
We pride ourselves in having a professional staff and safe operations for our team and community. We proudly stand behind our work. If for any reason you are not satisfied, please bring it to our attention during the check out process of your visit. All purchases are final sale and we currently do not support a refund policy.
WE LOOK FORWARD TO SERVING YOU SOON.
A complimentary consultation by one of our highly trained Service Providers.
Guidance about which services, products and styling tools we offer that will enhance not just your hairstyle, but your lifestyle.
A personalized recommendation for products that maximize and maintain the results of this visit straight through to the next.
Kip Avenue Parking lot directly behind our building. Our backdoor will not be open for entry. Please enter through the front door. Street meter parking is also permitted on Park Avenue, Orient way and nearby cross streets.
---
WITH SINCERE GRATITUDE…
The Substance Salon Team would like to thank you for Supporting our Home.
[/fullwidth_text]
What our clients say about us
I never had a go-to hairstylist, until I discovered Substance Salon. I met the awesome folks over @ Substance during a bridal show. Even though I had already booked my hair and makeup with another salon, I booked Substance to do the rest of my bridal party. Flawless! In the meantime, I also started going to Substance for my regular haircuts and color treatments. I can't say enough about how great Kristy is. On my very first appointment it ended up lasting hours past closing time (I have long hair) and yet everyone was really nice and patient, and you could tell they really cared about their customers. So I think that's been over a year ago and I've been going back ever since. I even got my husband to ditch his $10 mall haircuts and start coming here! -Google Reviews

Cheryl A.

Great service, well spaced out during coronavirus times. Chelsea is great; as my taste changed AS SHE WAS STYLING my hair, she was so adaptive and adjusted to my needs. -Google Reviews

Charnsmorn H.

Great decor, amazing service and the best cut a guy can get in NJ - Manny is truly an artist at his craft. Extremely happy and would recommend Substance Salon to anyone. -Yelp

Michael S.

I've been going to Substance for over 10 years now and have to say they are consistently my favorite - I always go back even if I try other places. The stylists and colorists are always the best in class with top training. The vibe of the salon is always upbeat, friendly, and professional. The environment of the salon is always clean and tidy with new decor. The front desk manager is always on point. The price tag is worth the service you receive! -Yelp

Great salon. Great atmosphere! Kelsea M is the best!! -Google Reviews

Gina P.

Great service and their pretty salon was spotless! Had to get a blowout last week and luckily they had a same day appointment. Friendly service and very cautious about COVID protocol- the staff was well trained. Nice blow out too . Will def go back, thank you ! -Yelp