Damn Good Gifts + Substance Salon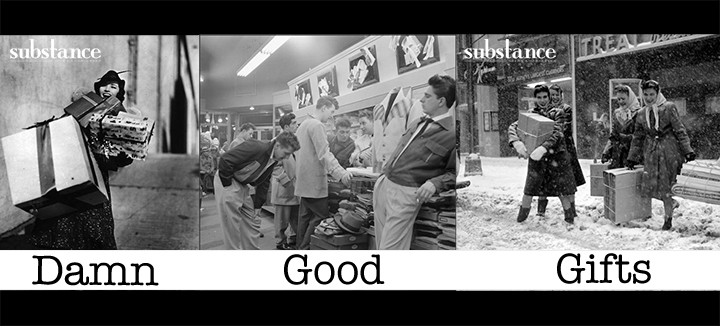 We've Got'em, Come and Get'em
You can find each of these picks exclusively at Substance Salon.

Whiskey Stones are great for the man who loves his 21 year old whiskey straight up and chilled.
Keep Whiskey stones in the freezer.

Only for the man who dares to wear the strongest symbol of his masculinity.

There's a maturity and sophistication that comes with wearing a full beard.
Keep the body nice and neat with this Beard Grooming Kit.


For the simple man who does not want to carry around a bulky wallet, these money clips
with clever sayings are just what he needs.

Check yourself out in style with this glamorous gold compact mirror that is perfect for the woman on the go.

For the traveler in your life, help them get it together with a perfectly sized weekender.

Have a business man in your life? Brass plated tie clips will make his business attire even more dapper.

Dapper weekender is great for a handsome traveler.

Bold brows and fluttery lashes help to bring light to the eyes. Enter Brow and Lash Kit.

The mini Woods candle is good to bring when staying at a hotel to make your stay cozy and inviting.

Woods candle is an awesome candle to give to an outdoorsy family member or friend.

Tobacco candle has different notes including sweet tobacco, reminiscent of your grandfather's pipe.

Pine candle screams a forest filled with Christmas trees. Get into the holiday spirit with this festive scent!

Whiskey balm is the best dry lip remedy for a man that loves his whiskey.

Use ultra shave gel for the closest shave.

The Scent #1 cologne is the perfect gift to give to any man in your life, whether it's your father, brother or husband. This is a cologne to be enjoyed by everyone who not only uses it, but also who smells it.
For the guy in your life that loves to make his house a home with stylish decor, a "Man"dle candle is the ideal present.

Knowledge shave gel will not only give the closest shave, it will moisturize the skin as well.
Knowledge cologne is a masculine scent for a powerful man.
Don't Forget we are giving away a free product when you purchase a blowdryer.